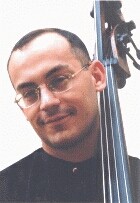 Born in 1972 in Moscow, USSR. A virtuoso bass player, graduated from Moscow State Tchaikovsky Conservatory in 1995 as a soloist; has also studied composition at the Conservatory. In 2002 was awarded the prestigious title of "The Honored Artist of Russia", thus becoming the youngest bass player ever in the history of both Russia and USSR to receive this award. From 1992 to 2004 has been working as the Principal Bassist with one of the most famed russian chamber orchestras – "Moscow Soloists", conducted by Yuri Bashmet.

Mr. Goloubev has performed with many great masters, such as Gidon Kremer, James Galway, Mario Brunello, Sarah Chang, Lynn Harrell, Barbara Hendricks, Sviatoslav Richter, Mstislav Rostropovich, Thomas Quasthoff, Vladimir Spivakov, Maxim Vengerov, Uto Ughi – to name a few. Alongside with his classical career, he has for a number of years been pursuing a career of a jazz player, playing with Paul Bollenback, Eddie Gomez, Miles Griffith, Shawnn Monteiro, Adam Nussbaum, Denise Perrier, Christoph Spendel, Glauco Venier, and many others.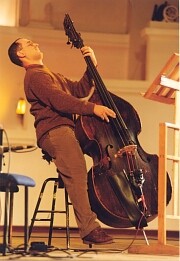 During the last 15 years, the tours have taken Yuri Goloubev to over 40 countries and nearly all world's most important venues – Carnegie Hall (New York), Suntory Hall (Tokyo), Concertgebouw (Amsterdam), Musikverein (Vienna), Salle Pleyel (Paris), Royal Albert Hall (London), Palacio de Bellas Artes (Mexico), Sydney Opera House (Sydney), Palace des Beaux Arts (Bruxelles), Academia Santa Cecilia (Rome), Megaro Hall (Athens), Gewandhaus (Leipzig).... full list would take several pages. Obviously, a great number of festivals have welcomed Mr. Goloubev - Bath Music Festival (England), Hommagio a Roma (Italy), Casals Festival (Puerto Rico), Festival of Perth (Australia), Prestige de la Musique (France), Kuhmo Chamber Music Festival (Finland), Hong Kong Festival of the Arts (Hong Kong), Boheme Jazz (Russia), Istanbul International Festival (Turkey), St.Petersburg Jazz Spring (Russia), Eilat Festival (Israel), New Zealand Festival of the Arts (New Zealand) are amongst them.

A number of outstanding musicians have highly evaluated Mr. Goloubev's art:
Your playing and compositions are very strong. You should have a very successful career in both classical and jazz music – Dave Brubeck

You are a beacon of light in your country for true music - keep it up – Dave Liebman

Could you please convey my appreciation to Yuri Goloubev for the great music. It's a really wonderful CD with great writing and playing – Randy Brecker
Mr. Goloubev has also a number of times been becoming a centerstage of different media:
Fantastic playing technique along with sophisticated musicianship... a superb player - Jazz Quadrate (Minsk)

Bass player Yuri Goloubev handled his "giant child" so lightly and agilely, carrying the composer's intentions out with such unbelievable animation and brilliance, that it was like a miracle! - Rundshau (Bonn)

Yuri Goloubev amazed the audience with his skilful solos in the higher tessitura; yet the pitch still remained even more than impeccable! – Intermedia (Moscow)
Moreover, in 2000 the well-known magazine "Harper's Bazaar" placed a feature article on Yuri Goloubev.

Mr. Goloubev has also written a certain amount of chamber and jazz compositions, as well as bass transcribtions, some of which have been published in Russia, Germany and the USA. Apart from his performing career, Mr. Goloubev has been conducting diverse master-classes in the USA, England and Ireland.

Goloubev's art has been featured on nearly 20 CDs, including 3 CDs as a leader and composer ("Rendering", 1996, "Toremar Island", 2001, "The Birdge", 2003). From December 2004 lives in Milano, Italy, where performs jazz with Enrico Pieranunzi, Giovanni Falzone, Claudio Fasoli, Antonio Zambrini, Rossano Sportiello, Glauco Venier, Massimo Manzi and other leading italian musicians.
ABRUZZO (Yuri Goloubev) mp3 128kbps lame real audio
REYNOLDS' LAW (Yuri Goloubev) mp3 128kbps lame real audio
THE NIGHT GONE BY (Enrico Pieranunzi) mp3 128kbps lame real audio
Michele Di Toro Trio (Michele Di Toro - piano, Yuri Goloubev - acoustic bass, Marco Zanoli - drums)
Special Guest - Piergiorgio Miotto (trumpet) (Abruzzo)
Recorded 10.2005, Ronco Biellese (BI)
C.E.U.P.S. (Glauco Venier) mp3 128kbps lame real audio
FRANCESCA DA ISCHIA (Yuri Goloubev) mp3 128kbps lame real audio
Glauco Venier Trio (Glauco Venier - piano, Yuri Goloubev - acoustic bass, Asaf Sirkis - drums)
Recorded 06.2004, Cavalicco (UD)
TO THE MISSING ONES (Klaus Gesing) [fragment] mp3 128kbps lame real audio
GIANT STEPS (John Coltrane/arr. Klaus Gesing) [fragment] mp3 128kbps lame real audio
Klaus Gesing Quartet (Klaus Gesing - sax, clarinet, Gwilym Simcock - piano, Yuri Goloubev - acoustic bass, Asaf Sirkis - drums)
Recorded 12.2005, Cavalicco (UD)
LUSH LIFE (Billy Strayhorn) mp3 128kbps lame real audio
CARAVAN (Juan Tizol) mp3 128kbps lame real audio
THINGS AREN'T WHAT THEY USED TO BE (Duke Ellington) mp3 128kbps lame real audio
Ellington Project (Glauco Venier - piano, Yuri Goloubev - acoustic bass)
Recorded 01.2006, Ronco Biellese (BI)
SALTO NEL VUOTO (Giovanni Falzone) [fragment] mp3 128kbps lame real audio
SOFTLY (S.Romberg) mp3 128kbps lame real audio
Giovanni Falzone Open Quartet (Giovanni Falzone - trumpet, Rosario Di Rosa - piano, Yuri Goloubev - acoustic bass, Massimo Pintori - drums)
Recorded 04.2005, Milano
Discography
(partial list)
Classical:
Bartok Divertimento, Tchaikovsky Serenade (ENSEMBLEGRAM);
Mozart Divertimentos D major, F major, B flat major, Adagio and Fugue C minor, Dvorak Serenade for Strings (2 CDs) (ENSEMBLEGRAM)
Berg - Canon; Schnittke Tripple Concerto (EMI)
Haydn - Cello Concertos # 1 & 2 (AUVIDIS)
Brahms - Clarinet Quintet (arranged for Viola and string orchestra by Yuri Bashmet and Yuri Goloubev);
Shostakovich - "The 13th" (13th Quartet arranged for viola and strings by Alexander Tchaikovsky) (SONY Classical)
Glinka Sextett (Saison Russe/CDM - Paris/Moscow) (featured music for Air France inflight music program);
Saint Saens - Septett, H.Sehested - Suite for Cornet and Strings (CHRISTOPHORUS - Germany);
Patrick de Clerk - Canto I (MEGADISC, Belgium);
Alexander Wustin - Blessed are the Poor in Spirit, Music for Ten (MEGADISC, Belgium);
Faradj Karaev - Postludia for Double Bass, Piano and String Quartet (MEGADISC, Belgium);
Prokofiev - Quintet (Arte Nova, Germany)
Jazz and Alternative:
Yuri Goloubev/Andrei Kondakov/Russian Jazz Quartet - The Bridge (Landy Star, Moscow, 2003)
Vladimir Goloukhov/WE - Art Deco Jazz (CD Land Records, Moscow, 2003)
Yuri Goloubev - Toremar Island (Landy Star, Moscow, Russia)
Igor Bril - Yuri Goloubev - Rendering (CANTABILE, Moscow, Russia)
Alexander Laertsky - Golosa Rodnikh (ELIAS Records, Moscow, Russia)
Viatcheslav Gorsky Trio - New Romantic Jazz (I.F.& M., Moscow, Russia)
Igor Raychelson - Suite for Viola, Jazz Quartet & Orchestra (Impromtu Records, New York, USA)
Published works
Tchaikovsky - Andante Cantabile (transcribed for Double bass & Piano by Yuri Goloubev)
Mozart - Clarinet Concerto (transcribed for Double bass & Piano by Yuri Goloubev)
Beethoven - Cello Sonata #3 (transcribed for Double bass & Piano by Yuri Goloubev)
Joseph Shillinger - Three pieces for Double Bass & Piano (edited by Yuri Goloubev)
Yuri Goloubev - "Serenity" (for oboe & string quartet)
published by R.Forberg - P.Jurgenson Musikverlag, Bonn, Germany
Brahms - Scherzo (transcribed for Double bass & Piano by Yuri Goloubev)
published by Ludwin Music, USA
Yuri Goloubev - "Madrigal I" (for soprano, viola and double bass)
published by "Compozitor" Publishing House, St.Petersburg, Russia
Arrangements of double bass parts
(for string orchestra)
Tchaikovsky - Souvenir de Florence
Brahms - Quintet h moll
Shostakovish - Prelude and Scherzo op.11