2006: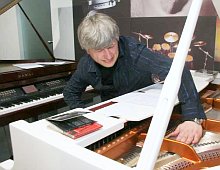 Dmitri Kolesnik (bass) & Andrei Kondakov (piano) "Five Corners":
Smalls - October 13, featuring Eric Alexander (tenor sax), Jim Rotondi (trumpet), Lenny White (drums)
October 14, featuring Grant Stewart - (tenor sax), Alex Sipiagin (trumpet), Lenny White (drums)
Smoke - October 19 oct - (Kolesnik, Kondakov, Alexander, Rotondi, White)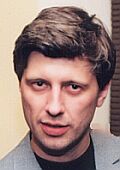 Andrei Kondakov was born in Dnepropetrovsk, Ukraine, on September 14, 1962, and entered jazz community aged 16, when he performed at local jazz festival. Initially he was influenced by Errol Garner and Duke Ellington, but then, in 1979, he met Nick Levinovsky, to date one of Soviet Union's most popular and well-regarded jazz pianists. This meeting, according to Andrey's many interviews, has changed his music taste forever. Kondakov began to listen to Herbie Hancock, Chick Corea, McCoy Tyner and other pianists. Then he changed his college specialization from Music Theory (which he studied at Dnepropetrovsk Music School) to Jazz Piano, that he studied in Petrozavodsk, Northern Russia. Later Kondakov continued his education in Petrozavodsk branch of St.Petersburg Conservatory of Music (majoring in Jazz Composition, graduated in 1987).
Since 1981 Kondakov started to play with his own bands, touring nationwide and performing at jazz festivals all over the former USSR. In 1987, his first solo LP "In The Night City" has been released on Melodiya (Soviet record monopoly).
In 1988 Kondakov met Andrey Ryabov, one of Russia's best jazz guitar players, and they founded a quartet that they co-led until the summer of 1992 and that gained a wide critical and public recognition in the USSR (even called country's best jazz combo for more that one year). This quartet toured the USSR with American saxophone player Ritchie Cole (one of those 1989 concerts was recorded and released by Melodiya) and performed in Europe in 1991-1992 (Stockholm, Nurnberg, Basel etc.).
In 1992 Andrey moved to St.Petersburg and started to work in another quartet setting, co-led with acoustic bass virtuoso Victor Dvoskin (now Washington, D.C. resident). They recorded an album entitled "Deserted Park" (1993).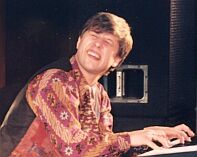 Since 1995 Kondakov played with the Interjazz project that started out of his collaboration with German drummer Christian Scheuber, then acquired French harmonica virtuoso Olivier Ker Ourio, Russian-American saxophone star Igor Butman, his fellow sax man from Germany Reiner Wietzel and Russian bass player Vladimir Volkov. The project's only album, "From Moscow To Paris", has been released in 2000 in Austria (PAO Records). Another setting with Volkov on bass and Scheuber on drums included Russian horn virtuoso Arkady Shilkloper; together they recorded a live album entitled "Live In Norway" that has been released by Russian jazz label Boheme Music in 1998 and was hailed by Russian critics, reaching #1 in their 1998 poll and getting Russia's only jazz awards "JazzEar" as Album of the Year.
Andrey says that his highest musical success was his collaboration with American bass player Eddie Gomez and drummer Lenny White. Together with sax virtuoso Igor Butman they toured Russia and Ukraine in 1997 and recorded two albums, one in New York and one in Moscow. Moscow album, "Jazz 4X4", has been released on Russian label Soyuz in late 1997. NY album still remains unreleased.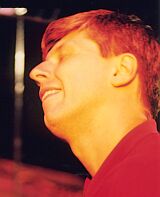 Since 1997, Andrey started a long-term collaboration with New York-based singer Napua Davoy. Several times they toured Russia and Ukraine together, as well as performed all over the United States (Yoshi's, Oakland, CA; Birdland, NYC; Beethoven Piano Store and Cleopatra's Needle, NYC, etc.). In 2000, supported by excellent rhythm foundation from Lenny White (drums) and Charnett Moffett (bass), Davoy and Kondakov released an all-original CD "Until We Meet Again" (Brave Cool World).
Another Andrey's American partner is guitarist Paul Bollenback: they toured Russia many times in various settings, from duo to a sextet, performing at clubs, theaters and festivals countrywide.
In early 2000 Andrey invited in Russia several Brazilian musicians of the New York Brazilian community - drummer Paulo Braga, bass player Sergio Brandao and percussionist Cafe. Joined by Paul Bollenback on guitar and Muscovite sax player Boris Kurganov (who now resides New York), this group toured European Russia and Siberia and recorded an album in St.Petersburg. The album, entitled "Old And New Brazilian Tales", was released later that year by Russian jazz label Landy Star Jazz and promoted by another Russian tour of this first Russian-Brazilian jazz project ever (Vanderley Pereira was on drums instead of Paolo Braga). The same year Kondakov also produced an album in New York called "Blues For Dad" for his old friend, New York-based, St.Petersburg-born acoustic bass player Dmitri Kolesnik. The session was supported by another fellow Russian, the trumpet great Alex Sipiagin (Mingus Big Band), as well as by sax player Eric Alexander and drummer Lenny White. Andrey played piano on all tracks. The album was released in 2001 by Boheme Music. This is what the great Ron Carter wrote on this album: "I have listened to the album Blues For Dad and have been enjoying every minute of it... This is wonderful recording".
Several more Andrei's recording projects are about to appear or still wait for being released, including his sessions with Randy Brecker (trumpet), Paul Bollenback (guitar) etc.
In March, 2001, Andrei Kondakov took part in the heavily-promoted "Triumph of Jazz" one-day festival in Moscow, produced by Igor Butman. Kondakov performed his waltz "Song For Michelle" with Igor Butman Big Band while Billy Cobham was on drums.
In St.Petersburg, Andrei Kondakov performs with his own quartet (Igor Timofeyev - drums, Gregory Voskoboinik - bass, Sergei Ostroumov - drums), teaches jazz at Mussorgsky College of Music and runs the city's best jazz club JFC.
Audio samples::
from "Old And New Brazilian Tales" - Andrei Kondakov, Sergio Brandao, Paolo Braga, Cafe, Boris Kurganov, Paul Bollenback, Landy Star, 2000
from "Jazz 4x4" - Igor Butman/Andrei Kondakov/Eddie Gomez/Lenny White - SZCD 0772-97, Prestige Records/Soyuz, 1997
A Little Time For Me (Napua Davoy &A.Kondakov) BCW0001, 1999
Live In Norway (Shilkloper, Kondakov, Volkov, Scheuber) CDBMR 809007, Boheme Music, 1998
"Jazz At The Old Fortress'97" CD Helicon Jazz Club

Deserted Park Andrei Kondakov - p, Igor Butman - ts, Eddie Gomez - b, Lenny White - dr
Love And Hope Andrei Kondakov - p, Igor Butman - ts, Eddie Gomez - b, Lenny White - dr

"Jazz At The Old Fortress'96" CD Helicon Jazz Club