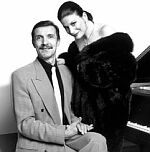 Nikolay Levinovsky, a jazz pianist and composer, came to New York from Russia seven years ago.
A few years after he arrived in the U.S., he met his vocalist wife, Kathleen Jenkins, when an agency they were both working for recommended Mr. Levinovsky as an accompanist for Ms. Jenkins. They started working together, and out of the working relationship romance began. On Tuesday, September 2nd, Mr. Levinovsky will assemble his seventeen piece big band (mostly made up of American musicians, along with some Russian musicians now living in the U.S.), with Ms. Jenkins-Levinovsky as the featured vocalist, for a CD Release Party at the new Birdland Jazz Club on West 44th St. in Manhattan to showcase his original concert jazz compositions on his latest CD entitled "Listen Up!
Though he did not know English when he arrived, Mr. Levinovsky now speaks with a cheerful intensity and a heavy accent. His English is a little broken at times but he is easily understood. Mr. Levinovsky grew up in a large Russian town called Saratov, in the southeast part of Russia. His parents were professional opera singers, and he was trained as a classical pianist. He describes the city in which he grew up as a highly concentrated art and cultural center for that part of Russia, with a conservatory, university, opera theater, dramatic theater, and philharmonic orchestra. It was "a very intensive cultural life."
Like all Russian children of musical families, explains Mr. Levinovsky, he was accepted into music school when he was six years old and started studying piano, spending seven years there, undergoing a "very tough schedule". He explains, "If they put you in musical school, there is no option: you've got to study. At the same time I was in regular elementary school - two different schools. (A) very strong education.
From there, he went to college for four years, which he describes as a middle ground before going on to the conservatory. He went on to earn a Master of Arts degree from Saratov State Conservatory.
In mid-fifties Russia, jazz according to Mr. Levinovsky , was a "...forbidden music, discouraged music. Nobody forbade it officially by law, but the common attitude towards jazz was very negative. Because it was American art."
Describing how his interest in jazz began he says: "I used to spend my leisure time ice skating.... There was a lot of music being played by local radio stations to entertain the customers...I started hearing some very unusual things....It sounded different from what I heard in opera theater, (or at) my music lessons....It sounded very strange and very exciting and mysterious, like magic....It was like a magnet: I couldn't avoid it. I didn't realize it, but I'd already fallen in love with jazz."
Later, in college, he began talking with fellow musicians and collecting the few jazz recordings that were available. Then one day his father bought a shortwave radio, which Mr. Levinovsky says was not common in Russia at the time. They started tuning in when suddenly he heard music that caught his attention, followed by an announcer saying, "This is Willis Conover of the Voice of America, and that was the Benny Goodman Orchestra." He remembered the dial setting and started tuning in every night to listen, and later record, the jazz broadcasts.
Mr. Levinovsky began to play, as well as arrange and compose jazz. While he was never thrown in prison and never broke any laws, he was discouraged by being labeled by the KGB as bad, and was shunned. At the same time, he says, he was the best student at the college and at the conservatory. Times have changed. The college, which celebrated its 100th anniversary this year, now mentions his name among the best and most well-known graduates who attended.
Mr. Levinovsky tells of the contradictions of Soviet life. The principal of the college, who did not hide his disdain for the jazz musicians, once called him into the office and asked "Can you put together your guys for tonight?" Fearing a trap, Mr Levinovsky didn't know how to answer. He was requested with his band to play an evening of dance music and was given an address. They arrived at a banquet hall full of nicely dressed people and tables heaped with food. On the back wall was a banner that read, "Welcome, KGB Workers." Laughing, he recalls, "They could forbid jazz (and) at the same time invite you to play for them."


By the time he became a professional, he says, the attitude towards jazz had changed. Jazz became separated from the West. It was accepted as an art form to the point that jazz festivals/competitions were held. Mr. Levinovsky used these competitions to hone his skills, winning many awards in the process. The competitions gave him a name. In the late sixties he was invited to join a jazz orchestra in Moscow, where he spent the next twenty years performing, conducting, arranging, and composing.
Ten years after coming to Moscow, he put together his own band, called Allegro. Mr. Levinovsky says, "This band quickly became famous in Russia. It was the end of the seventies, beginning of the eighties. This band was recorded tremendously in Russia (Mobile Fidelity Sound Labs reissued one of his recordings in the U.S. about five years ago), put on TV and Radio broadcasts. We got a lot of traveling around the world, we got huge press - everything."
Says Kathleen of his move to America, "Nick had to start from zero because he really has no name here." Since his arrival, Mr. Levinovsky has been working his way into the New York jazz scene, performing at clubs, restaurants and hotels, and as a musical director for theater. Outside New York, he has performed in Boston, Chicago, Detroit, Miami and Puerto Rico. In 1992, he performed in Russia with Ms. Jenkins and other American musicians, and last year Allegro performed a concert at Avery Fisher Hall, Lincoln Center, as part of the JVC Jazz Festival.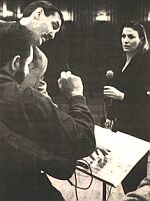 Ms. Jenkins-Levinovsky is from St. Paul, Minnesota, and started out singing country rock and top-40 music in "bars and dives". She fled that music by joining the U.S. Airforce Band, where she was introduced to jazz. She sang with a thirty-five-piece concert band doing Broadway show tunes and with an eighteen-piece jazz ensemble traveling up and down the East Coast and in Europe. After being discharged from the Airforce, in 1985 she came to New York to attend the American Musical and Dramatic Academy, which she credits for the bulk of her musical theater background and training.
Since then she's worked with nostalgia dance bands, including the Llyn Oliver Orchestra. For the last two-and-a-half years she's concentrated on musical theater. In addition to playing numerous musical theater roles, she was artistic director and producer for a cabaret comedy group called Cast Of Characters. She also founded and owned a theater for a year.
"I guess my forte is combining Broadway and jazz" she says. "I think I'm a show singer with a jazz feel. Although I am learning more about how to improvise and scat, the lyrics are more important to me than making sounds. Which is why I think I went in the musical theater direction".
Her voice will be featured with Mr. Levinovsky's big band, which has been together for two years. Right now he says, it's "just for art, maybe later for profit." You can pick up The Nick Levinovsky Big Band (featuring Kathy Jenkins) CD "Listen Up!" at any of the New York City music stores such as HMV, Tower, Barnes and Nobles, Virgin and Colony Records.