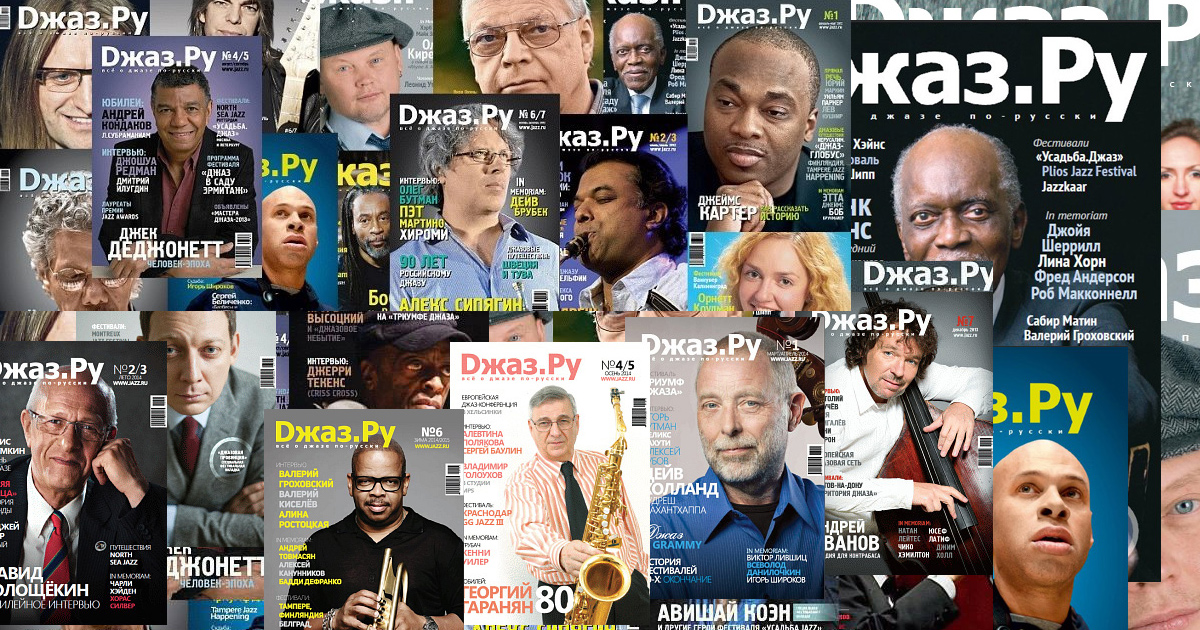 Jazz.Ru
magazine
Your gateway to the Russian jazz scene... and to the Russian jazz market! Online since 1998
Online since 1998, Jazz.Ru Magazine is your gateway to Russian jazz scene and the Russian web central for all things jazz! We focus on Russian-speaking audiences in Russia and worldwide, and also expand our English web resources. Currently we work as Web-based publication only. We also printed a thick, glossy paper edition five times a year between 2006 and 2015. Since then, we reduced the print version to a few rare special issues. We still miss doing that, but the online experience is so much fun and allows us so much more to share.
The magazine is based in Moscow, Russia, and published by Kirill «Cyril» Moshkow. The electronic and (formerly) printed publication works as a private enterprise, according to the laws of Russian Federation (state registration number Эл № ФС 77-24637 from June 13, 2006). For its entire history, the publication relies on ad sales, without any institutional or monetary support from government or corporate agencies.
OUR ALBUM REVIEW QUERIES POLICY
Jazz.Ru Magazine does accept albums for review, but:
1. we focus on Russian jazz scene, and target on Russian audience.
Therefore, the album must be available on Russian market, otherwise the review is not relevant for our readers.
2. we receive quite a lot of review requests. So we are quite picky as to what is actually going to be reviewed. It is solely the review editor's responsibility to decide what is going to be reviewed, and what isn't. We do not guarantee that the album sent to us is actually going to be reviewed in the magazine.
Please keep in mind that our album reviews are in Russian language, as they are intended for Russian-speaking audiences, and we do not translate them into other languages. If it still suits you, feel free to submit your album.
A digital download code (file-share link) is preferred if it's available. In this case, we also need a print-size PDF or JPG file with the album cover artwork.
Please use e-mail to contact our editorial staff… and thank you!
Thank you for your interest in Jazz.Ru Magazine, Russia's premiere jazz publication.
Currently, our staff writers and a regular stable of experienced and proven freelance writers provide much of our content in house. Jazz.Ru Magazine assumes no responsibility for unsolicited queries or manuscripts.
We are interested in new authors and their ideas, but story queries should be submitted in writing via e-mail first. Provide a short focused outline of the proposed article (no more than 150 words). The query should convey your tone and style. Include a brief bio and attach copies of previously published work.
Please note than Jazz.Ru Magazine is published in Russian language. In cases with stories originally written in languages other than Russian, the translation service can be provided by the magazine staff (if the original language is English, German, French, Polish, Ukrainian, or Bulgarian,) or performed by a third party (all other languages,) but the translation expenses for unsolicited story queries must be covered by the writer in any case.
Please note that Jazz.Ru magazine does not accept submissions for fiction or poetry.
Copyright © 1997-2023 Jazz.Ru / Джаз.Ру – all rights reserved