Igor Butman plays "Nostalgia" with Igor Butman Quartet (YouTube):

Igor Butman plays Rachmaninoff with Yuri Bashmet Orchestra (YouTube):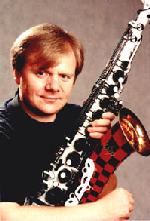 Igor Butman, saxophone virtuoso, bandleader, club owner and television host, is Russia's number one jazz personality. Born in 1961 in Leningrad (now St.Petersburg), Igor Butman started playing the clarinet at the age of 11. In 1976 he entered the Rimsky-Korsakov College of Music, where during his second year he dropped the classical clarinet for the jazz saxophone. Besides being taught by the remarkable musician and brilliant teacher Gennady Goldstein, he took unofficial lessons from nightly broadcasts of jazz from 11: 15 p.m. to midnight on Voice of America.
In 1983, Igor Butman played in Oleg Lundstrem`s big band - the best one in the USSR. Next year he was invited by Nick Levinovsky to join the most well-known jazz group in the county, "Allegro", and played with them for three years. In the Soviet Union, a country of over 300 million people, Igor was known as the best tenor saxophonist, placing first in the Soviet Critics' Polls and recording many albums for Melodiya.
After Igor Butman emigrated to America in 1987, he went on to major in Performance and Composition at Berklee College of Music in Boston, MA. By the time Igor arrived in the United States, he already had a "fan club" made up of some of America's most respected Jazz artists. While still in the U.S.S.R, Igor was invited to play with touring American musicians, including Dave Brubeck, Chick Corea, Pat Metheny, Gary Burton, Louis Bellson and Grover Washington Jr., who took Igor "under his wing". Igor appeared as Grover's special guest in concerts at Chautauqua, New York, the Berklee Center in Boston and at Great Woods Center in Mansfield, Massachusetts. Igor has performed as part of Grover's band several times, including at New York's Blue Note. He is featured on Grover Washington Jr.'s Columbia release "Then & Now" (1988), soloing on "Stolen Moments", "Stella By Starlight", and Igor's own composition, "French Connections".
Igor's big sound and boyish exuberance have earned him standing ovations and many new fans, and his US solo career has moved straight ahead. He led his own group with Rachel Z. at Boston's leading Jazz club, The Regattabar, and has been featured soloist with the Billy Taylor Quartet, the Walter Davis Jr. Quartet and the Monty Alexander Quintet. He appeared on "The Today Show", "Good Morning America" and numerous other international programs.
Moving to New York in 1989, Butman worked with The Lionel Hampton Orchestra. In 1992, Igor recorded with actor/musician Michael Moriarty's Quintet the album Live at the Fat Tuesday`s on DRG Records. In Variety's review of this recording, it was noted that Igor, "Impressed with a round tone and deft ability at double time efforts and harmonized tightly".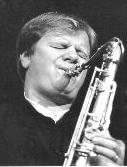 1993 saw the release of his solo album "Falling out" mostly with Igor's own composition, which featured no less than Eddie Gomez on bass, Lyle Mays on piano and Marvin "Smitty" Smith on drums and received good reviews in the most respectable jazz magazines, such as Downbeat, Jazztimes, and Jazziz. Next year Butman collaborated with Partners in Time, joined by Gary Burton, in the recording of their album "Equinost" (Intersound).
In 90`s Igor Butman performed at almost every major jazz festival, such as JVC Jazz Festival in New York, Boston Globe Jazz Festival in Boston, Lionel Hampton Jazz Festival in Idaho, Festival Internationale de Jazz de Montreal in Canada.
That year Igor Butman moved to Russia and during the following years he became " a jazz bridge between Moscow and New York"(Ogonyok Weekly), bringing to Russia and playing with Eddie Gomez, Lenny White, John Abercrombie, Joe Lock and many other musicians.
Especially pleasing to Igor's admirers was his new solo album Nostalgia which was recorded at RPM Studio in New York and released on Soyuz label in Russia in 1997 with Ira Gitler commenting that "Butman showed the fire and depth of his world-class improvisational talent".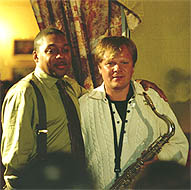 Butman`s marvelous coalescence of soul, sound and technique drew praise from American President Bill Clinton, one time tenor man, at a state dinner hosted by Vladimir Putin at the Moscow Kremlin. Clinton stated that Igor Butman is "may be the greatest living jazz saxophone player, who happens to be a Russian."
When Wynton Marsalis performed in Russia in 1998, he invited Butman to be a guest soloist with the Lincoln Center Jazz Orchestra. Next year Marsalis was a featured guest with Igor Butman Big Band at Le Club. Marsalis says, "I love Igor's Butman playing and I love him personally. He has a great feeling for the music and for people and he's phenomenal musician. Igor Butman is my main man!"

Of all his recent accomplishments Butman considers "The Triumph of Jazz ", a tremendous concert that any producer of a three-day festival would be hard pressed to duplicate, his crowing achievement to date. The talent-laden program thrilled the capacity audience in February 2002 at Moscow's 3,000-seat Rossiya Concert Hall. Using his world-class big band as a base, Igor Butman added drummer Billy Cobham and lead trumpeter Joe Giorgianni and backed such guest soloist as Joe Lovano, Randy Brecker, Kevin Mahoganny and Dee Bridgewater. Separate sets featured Elvin Jones' Rhythm Mashine and the duos of Gary Burton/Makoto Ozone and Toots Thielemans/Kenny Werner.
Igor Butman has performed and recorded with the best world classical violist Yuri Bashmet and his Moscow Soloists Chamber Orchestra. Together they have created a new video "Vocalise" on Rachmaninov's music. Previous Igor Butman's video, "Nostalgie" (2001), has reached the second position on Canadian channel Bravo!Canada.
In addition to performing, Igor Butman is а host of the popular weekly television show Jazzophrenia on Russian TV channel Culture. He is also the artistic director at Le Club, Moscow's top jazz venue, where he also appears with his big band (every Monday) and quartet. Igor has presented there such musicians as Ray Brown, Chick Corea, George Benson, Kenny Garrett, Randy Brecker, Gary Burton, Billy Cobham, Al DiMeola, Monty Alexander and many others.
Igor Butman combines mastery of his chosen instrument with joy and freedom, yet clearly and unquestionably conveys his experiences through his music. Ken Franckling in Jazztimes called Igor "A post bop performer with great stage presence, horn control and emotion... there is a deep resonance to his up tempo playing and a mature softness to his balladry".
this discography, compiled by Vladimir Korneyev, is a part of his comprehensive "Dicography of Russian Jazz CDs"
CDs released outside of Russia:
Igor Butman - Falling Out, Impromptu Records, IMP-1031 (1994, USA)
Igor Butman-ts; Eddie Gomez-b; Lyle Mays-p; Marvin "Smitty" Smith-dr.
Partners In Time - Equinost, Intersound CDJ-740 (1994, USA)
Igor Butman-ts,ss; Victor Dvoskin-b; Tony Martucci-dr; Louis Sherr-p, Hammond B-3. Guest artists: Gary Burton-vib; Ryan Kisor-tp; Don Alias-perc; Paul Bollenback-g; Ken Willaman-cello.
Datevik - Ballads From The Black Sea, Mapleshade MS 04332 (1993, USA)
Datevik-voc; Lary Willis-p; I.Butman-ts; Andy McCloud-b; Steve Williamson-dr.
Various - Live In Moscow, B&W Music, BW039, 3 CD Collection (1993, UK)
CD1: Toninho Horta Sextet; CD2: Igor Butman Quartet (Igor Butman-ts; Eddie Gomez-b; Steve Amirault-p; Ronnie Burrage-dr); CD3: compilation.
The Michael Moriarty Quintet - Live At The Fat Tuesday's, DRG Records Incorporated DRG 8438 (1992, USA)
M.Moriarty-p, harmonica, voc; I.Butman-ts,ss; Michael Leonhart-tp,flh; Jay Leonhardt-b; Dennis Mackrell-dr.
Grover Washington, Jr. - Then And Now, CBS 462516 2 (1988, USA)
G.Washington, Jr.-as,ts,ss; I.Butman-ts; Ron Carter-b; Tommy Flanagan-p; Miguel Fuentes-perc; Herbie Hancock-p; James "Sid" Simmons-p; Marvin "Smitty" Smith-dr; Richard Lee Steacker-g; Grady Tate-dr; Gerald Veasley-b; Darryl Washington-dr.
Igor also plays on two Mobile Fidelity Sound Lab releases - 1993 Sphinx (Nick Levinovsky's Allegro) and 1994 - Jazz In The USSR (a compilation where Igor plays one tune).
CDs released in Russia:
Igor Butman Quartet - First Night Swing, Ermatell Records JCD 022
Igor Butman - ts, Alexey Podymkin - p, Dmitry Averchenkov - b, Sergey Belichenko - dr
Igor Butman, Andrey Kondakov, Eddie Gomez, Lenny White - Jazz 4x4, Prestige Records/Soyuz Records SZCD 0772-97
Igor Butman - ts, Andrey Kondakov - p, Eddie Gomez - b, Lenny White - dr
Igor Butman - Nostalgia, Prestige Records/Soyuz Records SZCD 0774-97
Igor Butman - ts, Frank Kimbrough - p, Joe Locke - vibes, Essiet Okon Essiet - b, Alex Sipiagin - tp, Oleg Butman - dr, Gene Jackson - dr
NY-Novosibirsk Double Jazz Quartet - Hellish Mixture, Ermatell Records JCD 032
Igor Butman - ts, Andrey Lobanov - tp, Joe Locke - vibes, Alexey Podymkin - p, Essiet Okon Essiet - b, Dmirty Averchenkov - b, Tony Campbell - dr, Sergey Belichenko - dr
All four CDs - 1997
Four Brothers - Four Brothers, Boheme Music, CDBMR 809021 (1999)
Ivanov Brothers Jazz Project: Igor Butman - ts, ss, Oleg Butman - dr, Mikhail Ivanov - p, Andrey Ivanov - b
SOUND CLIPS (from "Four Brothers"):
Contact: Email the artist
THE FINANCIAL TIMES (London) ON RANDY BRECKER/IGOR BUTMAN QUARTET, 2006
Randy Brecker/Igor Butman Quartet, Ronnie Scott's
By Mike Hobart

Published: September 13 2006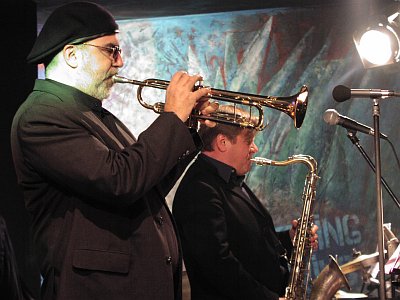 pictured: Randy Brecker, Igor Butman, Moscow, 2002 (by Cyril Moshkow)
The American trumpeter Randy Brecker oozes the urbane professionalism of a touring jazz musician in demand for studio work. His 40-year career spans Frank Sinatra and Bruce Springsteen, headlining jazz- fusion with Funkadelic and his own Brecker Brothers band, and a plethora of jazz greats. He made his first appearance at Ronnie Scott's with the pianist Horace Silver's quintet in 1968, having just left the jazz-rock supergroup Blood, Sweat and Tears to get more musical freedom.

The contrast with the 45-year-old Russian saxophonist Igor Butman, largely unknown in the UK, could hardly be greater. First impressions are of a youthful enthusiast, but scratch the surface, and there is a steely professionalism in the execution that matches the American note for note, even on a wickedly fast take on Brecker's signature "Some Skunk Funk".

But then Butman is a jazz star in Russia, and musical director of Moscow's biggest jazz club. While in the US from 1987 to 1995 he racked up credits with jazz heavyweights such as Dave Brubeck and Grover Washington Jnr.

Although Butman's arsenal of slurs, vibratos and flourishes harks back to the blues-laden dance bands of the 1950s, his demanding repertoire was largely provided by Randy Brecker and was firmly in the contemporary, playfully funky, rhythmically tricky mainstream, with lots of space for soloists. And both musicians have a strong sense of melody and build exciting, signposted solos.

Contrasting ballads came from Butman and his Russian rhythm section: "Nostalgie", a showboating feature, and "Beauty Is So Far", delightfully elegiac. The pianist Anton Baronin's overall fluency impressed and the sense that the rhythm section was occasionally about to gallop over a cliff added to the excitement.
Copyright: The Financial Times Limited 2006

Igor Butman Moscow Quartet in America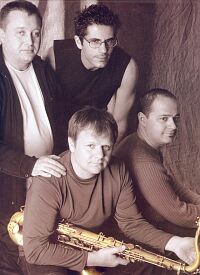 For the second time since February, 2002, Igor Butman, Russia's premiere saxophonist, has presented his Moscow quartet in the U.S. during late February, 2003.
Rated #1 among Soviet sax players in the 80s, Igor Butman, a St.Petersburg native, moved to the United States in 1987 to study at Berklee School of Music and then joined the New York jazz scene. He spent several years in the U.S., appearing on the 1988 Grover Washington Jr. album and releasing a couple of his own recording efforts, of which "Falling Out" (Impromptu, 1993, with Lyle Mays on piano, Smittie Smith on drums and Eddie Gomez on bass) was probably the best. Igor started to tour his native Russia again in the mid-90s and by 1997 moved to Moscow, quickly gaining back the top position among Russian jazzmen. He toured Russia extensively with his Moscow quartet and sometimes even with a big band, as well as with countless American and European jazz musicians, who came to tour with him (Randy Brecker, Billy Cobham, Joe Locke, etc.). In Moscow, he runs Le Club, a must-go on the Russian capital's jazz map (rated the best jazz venue in the country by Moscow Jazz Journalists Association every year since 1999, and among the World Top 100 Jazz Clubs by Down Beat magazine, 2002). Igor also keeps his presence on the U.S. stage, playing several clubs and festivals (including the Lionel Hampton Jazz Festival) each year.
This year, it is time to show Igor's Moscow quartet to American audiences. Working together since 1997, the band has evolved into one of Russia's best hardcore jazz units. The pianist who inherited Russia's rich piano traditions, Anton Baronin, is in his 20s, but rates among country's best jazz piano players. The rhythm section is probably the strongest in Russian straight-ahead jazz, and consists of upright bass player Vitaly Solomonov and drummer Edward Zizak.
Igor Butman Moscow Quartet appeared at:
Birdland, New York City, NY - February 27, 2003 (special guest: Randy Brecker, trumpet)
Bearsville Theater, Route 212, Woodstock, NY - February 28, 2003
Doors open at 8 pm; for tickets call (845) 679-6700 ext. 0 or www.wdst.com
Regatta Bar, Boston, MA - March 5, 2003