реклама ооо \"мидэкспо\" erid: 2VtzqukPS7J
Cyril Moshkow,
editor, Jazz.Ru Magazine
On November 20, 2020, the person who was among the pioneers of the USSR—USA / Russia—USA jazz contacts, turns eighty. It was thanks to Dr. Lynn J. Skinner, who was better known in the jazz community as Doc Skinner, that several dozen jazz musicians from Russia and other post-Soviet countries performed at the largest jazz festival in the Northwestern part of the U.S. over the course of two decades. Doc Skinner really holds a Doctor's degree in Music Education; he was at the helm of the Lionel Hampton Jazz Festival, organized by the University of Idaho in Moscow, ID, for three decades, and was a personal friend of the festival's patron, the legendary African American jazz vibraphonist Lionel Hampton, who lent his name and support not only to the festival, but also the U of I music school (currently, Lionel Hampton School of Music.) Doc recently released a book he wrote on his friendship with Hampton, titled Hamp & Doc: Lynn «Doc» Skinner and the Lionel Hampton Jazz Festival (Inkwater Press, 2019).
реклама на джаз.ру - продолжаем читать текст после рекламы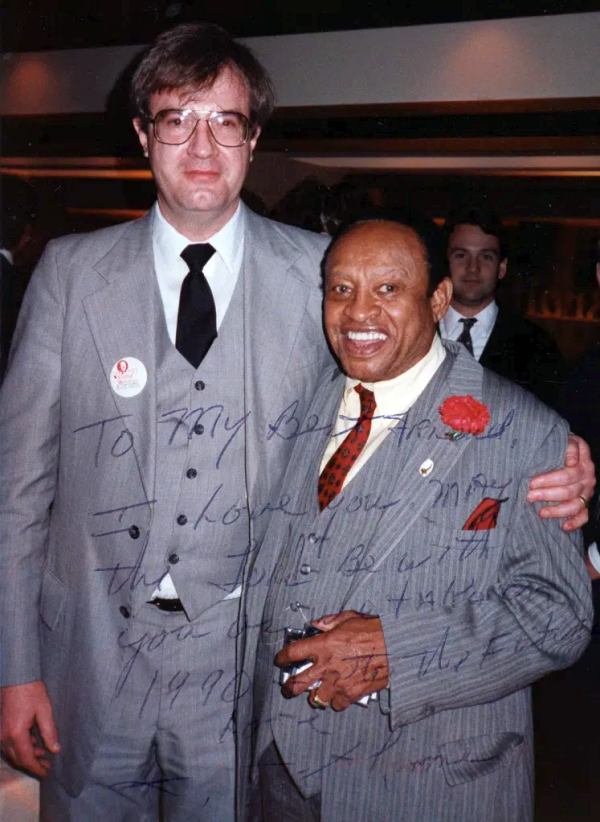 The Lionel Hampton Jazz Festival reputation wasn't based on the fact that it featured an unusual amount of the artists from the former U.S.S.R. Rather the contrary: that fact remained little-known in the U.S., but the stars of the New York and West Coast jazz scenes on the festival roaster attracted large listening crowds, and thousands of music students from all over the U.S. and Canada who arrived annually in the tiny campus city of Moscow, ID, to be the part of the student jazz competition within the festival program. Lionel Hampton's name, proudly accepted by the festival in 1985, helped to establish that reputation.
Back in the 1980s, very few people in the U.S. knew that there was a jazz scene in the Soviet Union: a vivid one, maybe not as diverse as the scenes of Western Europe or North America, but a jazz scene in its own standing nevertheless. Very few Soviet jazz artists visited the States without having to emigrate first. It took a lot of effort from both the USSR and the U.S. to make sure that a Soviet jazz duo, Russian pianist Leonid Vintskevich and Estonian tenor saxophonist Lembit Saarsalu, performed at a major American jazz festival, for the first time in history, in 1989.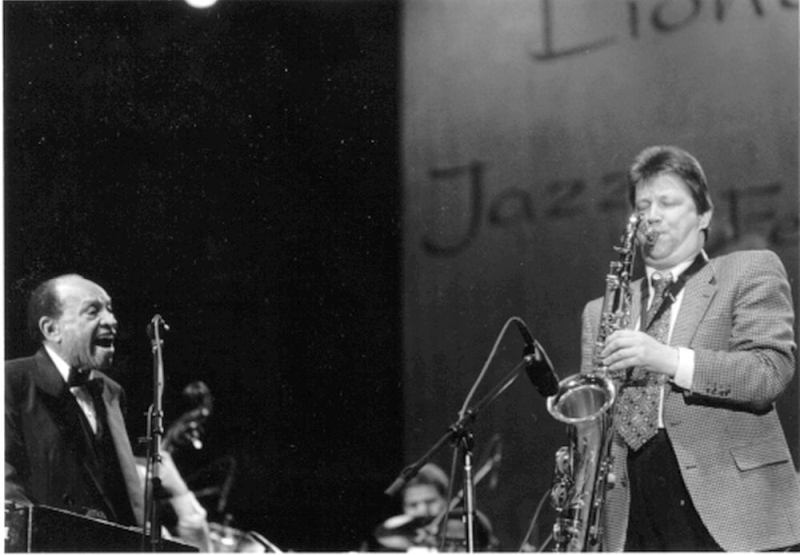 Having met at a jazz festival in Sverdlovsk in 1984, both artists were based in their respective hometowns: Vintskevich, in Kursk, Russia; Saarsalu, in Tallinn, Estonia. However, during their meetings at jazz festivals elsewhere in the Soviet Union, the two discovered that they shared not only their love for classic American jazz repertoire, but also their understanding of complex forms within the format of a jazz duo, and their endless adventurousness in incorporating the elements of their native music cultures into jazz idiom: Vintskevich, the rich legacy of Russian classical music, which he mastered at the Kazan State Conservatory where he studied classical composition in 1968-73; Saarsalu, the subtle Northern beauty of Estonian folk music. Soon they performed at many European jazz festivals, including the 1986 North Sea Jazz Festival. 1989 saw their American debut at the Lionel Hampton Jazz Festival in Moscow, Idaho. It was an immediate success: even the festival's patron, the legendary vibraphonist Lionel Hampton, who was 81 at the time, joined them on stage for a few numbers. The Vintskevich-Saarsalu duo would return to Idaho for nearly two decades until 2007, when Lynn "Doc" Skinner, the festival's executive director since 1977, who originated the idea of bringing Soviet jazz artists to America's largest jazz festival west of Mississippi, retired.
WATCH VIDEO: LHJF, 1997. Leonid Vintskevich p, Lembit Saarsalu ts, John Stowell g, Cristian Fabian b, Elvin Jones dr.
Under Doc Skinner's leadership, the Lionel Hampton International Jazz Festival had the largest presence of Soviet and post-Soviet jazz musicians in the entire North America. Musicians from Russia, Estonia, Ukraine, and Latvia performed in Moscow, Idaho every year, including several American jazz musicians of Russian origin, such as the ex-Jazz Messenger, trumpeter Valery Ponomarev, and saxophonist Igor Butman, who would return to LHIJF many times after he moved back to his native Russia in 1996.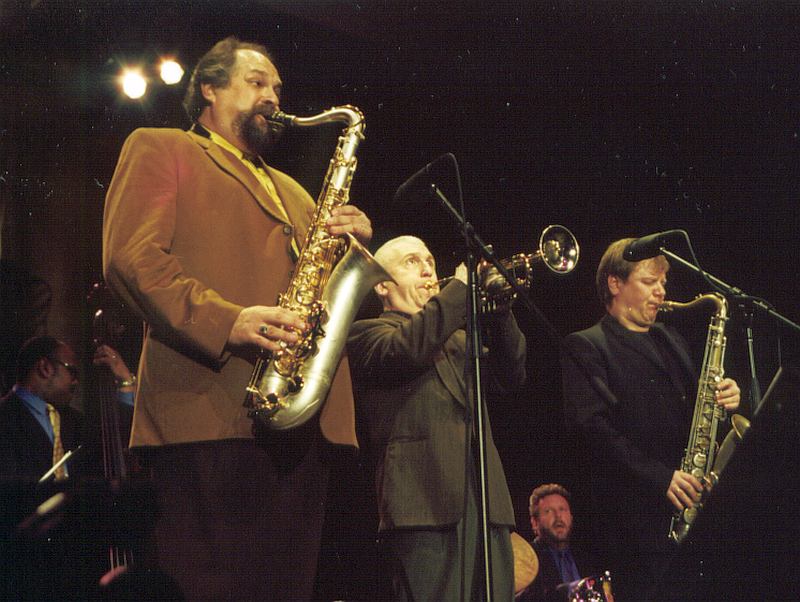 For the legendry Russian jazz composer German Lukianov (1936-2019,) his appearance at the 2005 LHJF with Igor Butman Quintet (plus Oleg Grymov on alto, Anton Baronin on piano, bassist Vitaly Solomonov and drummer Eduard Zizak) became his first, and only, performance at an American jazz festival. The pioneer of the Russian jazz composition, who studied composition at Moscow Conservatory with Aram Khachaturian and brought his considerable composing skills and talent to the 1960s Moscow jazz scene, performed four of his original compositions; on one, the sextet from Moscow was joined by the great American trombonist, Bill Watrous.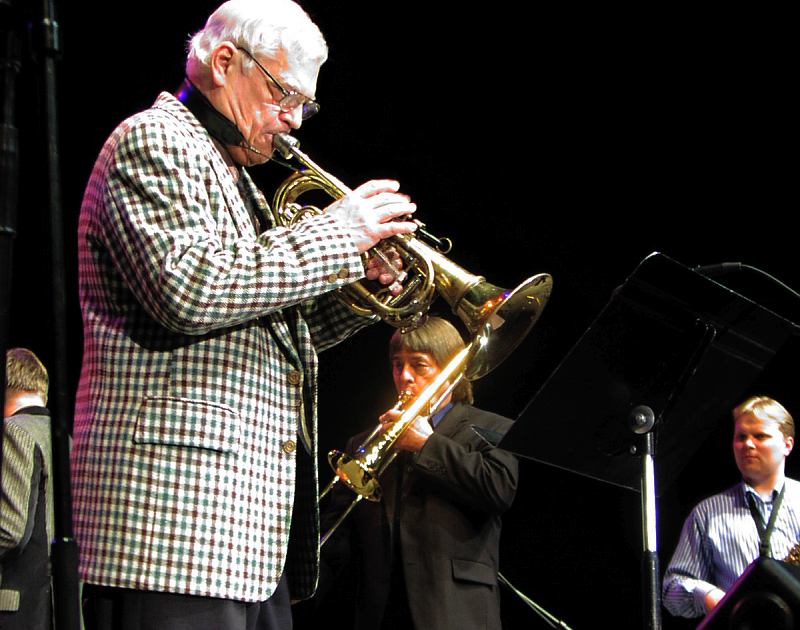 Several other significant jazz musicians from post-Soviet countries also performed at LHJF over the years: innovative tap guitarist Enver Izmailov, multi-instrumentalist David Goloshchokin, ManSound a cappella ensemble, horn virtuoso Arkady Shilkloper, pianist Eldar (for the 12-years-old Eldar Djangirov, his performance at LHJF became his festival debut in the U.S. after his immigration from the former Soviet republic of Kyrgyzstan,) saxophonist Nick Vintskevich, and others.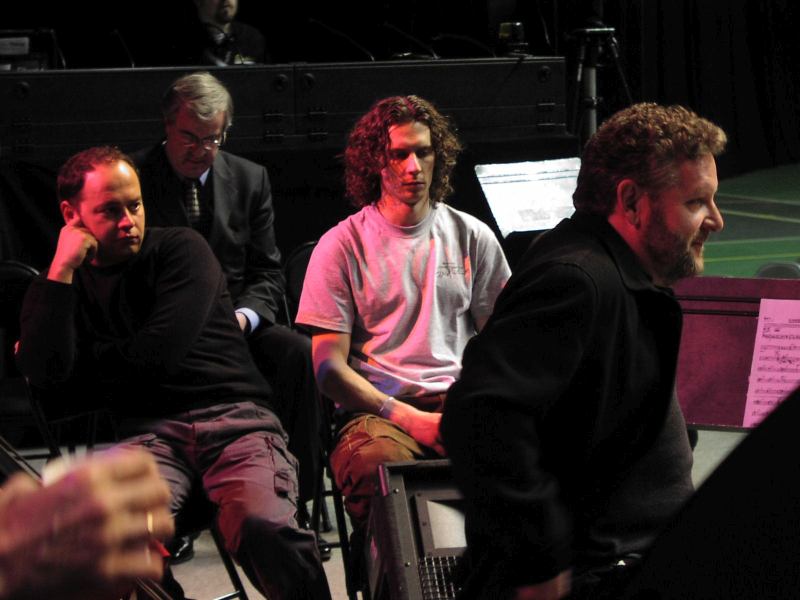 2005 saw the peak moment, with a total of 18 musicians from the post-Soviet countries performing at the Moscow, Idaho festival, including a group of eight young Russian stars who studied at the University of Idaho's Lionel Hampton School of Music as part of their study tour in the U.S., sponsored by the Library of the Congress' Open World Cultural Leaders program. Several of those young artists who debuted in the U.S. at the Lionel Hampton Jazz Festival are currently among the leaders of Russia's jazz scene.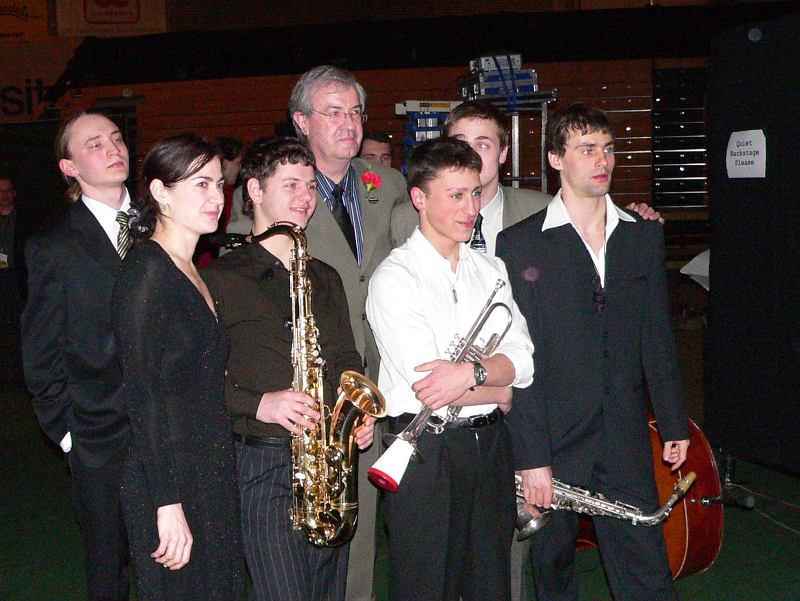 However, of all Russian and post-Soviet jazz artists, the Vintskevich-Saarsalu duo remained the formation with the longest track record at the most important jazz festival in the U.S. Pacific Northwest, having performing there almost annually for nearly two decades. It would be surprising if no personal bonds evolved between them and Doc Skinner, but it was more than that: after Doc visited the 1998 Jazz Province Festival in Russia, where Leonid Vintskevich served as the festival's artistic director since 1996, the personal friendship elevated to a new level. Through Leonid Vintskevish, Doc Skinner influenced a whole generation of artists, as the Jazz Province was not just a local festival in Leonid's hometown of Kursk, it was a moving enterprise which toured the annual chain of 10 to 12 major cities in central Russia, including Kursk, Oryol, Voronezh, Lipetsk, Belgorod, Tula, and many others. Hundreds of artists from Russia, the U.S., the U.K., Japan, Israel, Brazil, and from several European countries such as Germany, Norway, Poland, Lithuania, Estonia, Belarus, Ukraine, Denmark, Poland, Spain, Switzerland, Luxembourg, France, the Netherlands, Finland etc. were involved during the stunning 25 years of the Jazz Province history. The two-weeks-long annual tour led to multiple collaborations between American, Russian, and European jazz musicians, who first met each other at Jazz Province.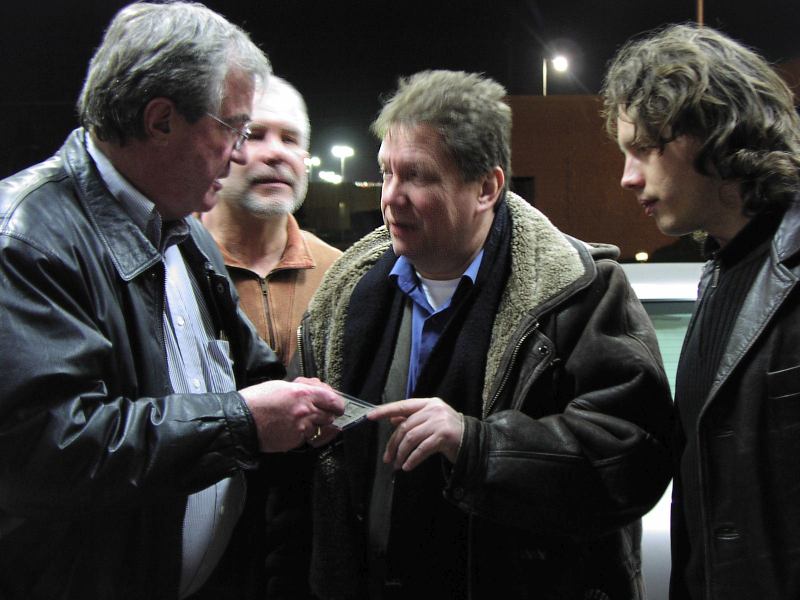 Lynn "Doc" Skinner is not just a retired jazz festival organizer. He is a musician who can play seven instruments, as diverse as piano, saxophone, organ, and even euphonium. And he composes music: his tunes were performed by the likes of Slide Hampton, Claudio Roditi, Igor Butman, and the Lionel Hampton Big Band. At the 2007 Lionel Hampton Jazz Festival, his final as the artistic director, his music was performed by a string orchestra, conducted by the new artistic director, the famed jazz bass player John Clayton; the principal soloists were Lembit Saarsalu, tenor sax, and Leonid Vintskevich, piano.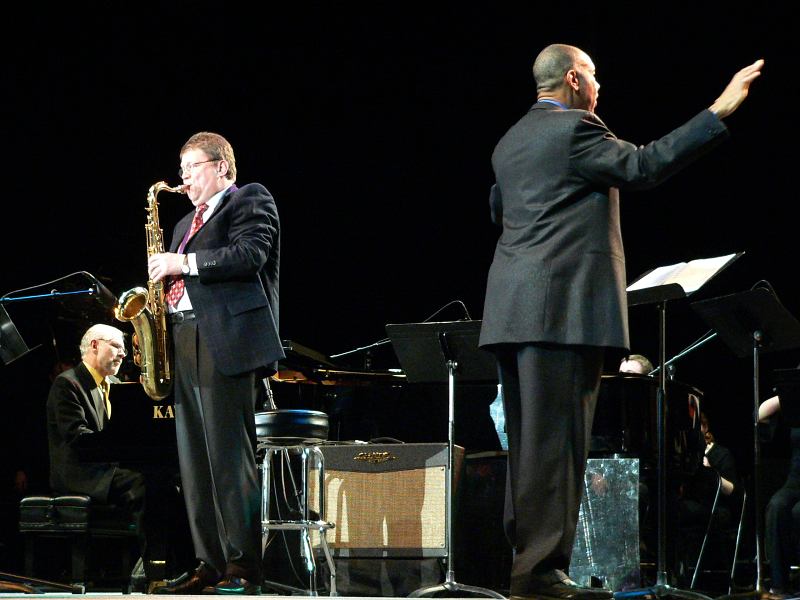 That was a very touching moment, witnessed by this writer together with several thousand other listeners at the University of Idaho's 8,000-seat Kibbie Dome.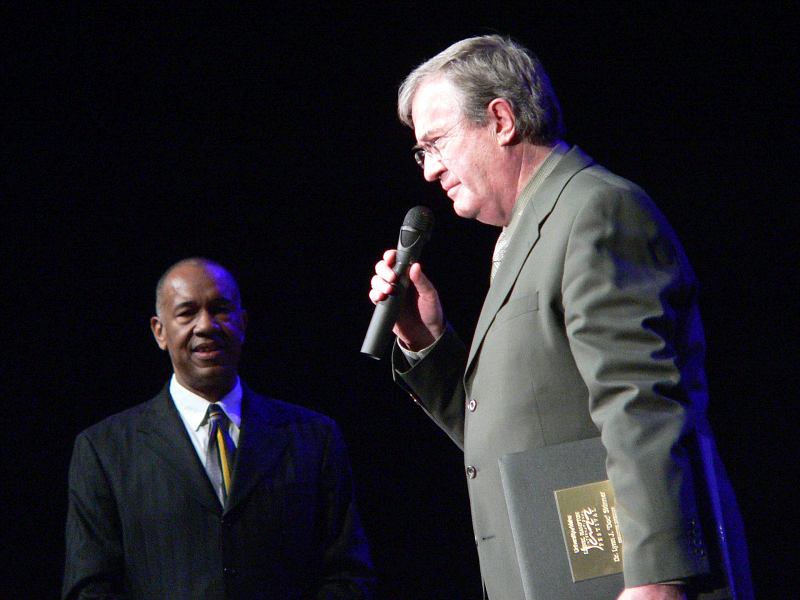 The Russian-Estonian duo also had their own, more intimate vision of Doc's original music, which they recorded at the Salt Lake University Hall. Lynn "Doc" Skinner may not have performed it with them, but his kind, lyrical, wise personality is clearly present in their rendition, so it's three artists we actually hear on those tracks, not two.
Jazz performance is transient by nature, and not guaranteed to be great, as the performer may fail or succeed. The composed material is only a sketch, not even a map; performers add their own experience and their own vision to the ones that guide the composer. That night in Salt Lake City, the equation worked and the music was born: the sum turned out to be bigger than its elements simply put together. The performers themselves described it simply as "it worked in a very musical way." That is correct: the music, when it works, is bigger than just the sum of sounds it consists of. Skinner's melodies are very song-like, and the two instrumentalists made them sound like something more than just a sequence of notes, however clever such sequence may be; they sound like songs, like laments, like expressions of hope and love, stemming directly from a human heart; a live emotion rather than just musical notes, and this is worth a great deal.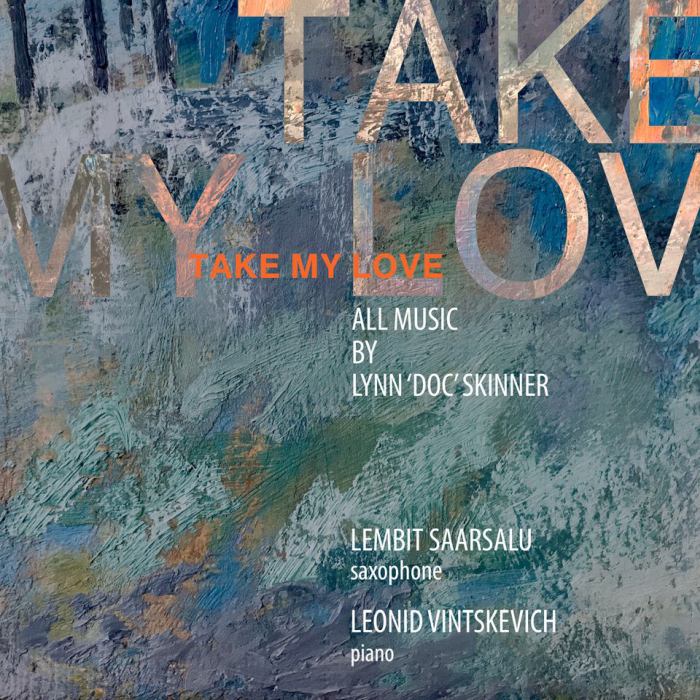 For Lynn 'Doc' Skinner's 80th birthday, the Lembit Saarsalu—Leonid Vintskevich Duo releases Take My Love, the recording made in Salt Lake City, as CD and LP (on Butman Music Records). It will appear on major digital platforms later in November and December, 2020.
AUDIO: Take My Love (composed by Lynn Skinner)
Leonid Vintskevich, piano; Lembut Saarsalu, tenor saxophone
recorded at the Salt Lake University Hall, Salt Lake City, UT
engineered by Mike Cottle
mixed and mastered by Eugene Sharikov at Seastudio, Moscow, Russia