As Jazz/Ru already reported, on December 3 in Washington, D.C., at the gala concert of the Herbie Hancock Institute of Jazz International Guitar Competition (until 2019, the Thelonious Monk Jazz Competition,) the jury announced the name of the winner. The first prize was awarded to a Russian musician, the graduate of the Rachmaninoff Rostov State Conservatory, currently working as soloist of the Igor Butman's Moscow Jazz Orchestra, Evgeny Pobozhiy. This is something yet unheard of: in the 30 Thelonious Monk Competitions held since 1987, Evgeny is only the third musician from Russia to reach the semi-finals stage, and the first Russian to win.
To be more precise, in the 2004 competition, that year specializing in vocals, there was also a separate composers' competition, as was usual between 1993 and 2018—and a native of Russia won back then: the pianist and composer, Misha Pyatigorsky. However, since 1981, when he was eight years old, Misha resided in the United States, and was not a citizen of Russia. In the main competition, which is held every year for a single performance specialization (vocals, saxophone, piano, drums, etc.,) musicians from Russia have never won. Especially guitarists: the last guitar-centered competition was held 14 years ago, in 2005. The more significant is Pobozhiy's first prize in the Herbie Hancock competition (the former Thelonious Monk competition,) as the role of this competition for the jazz scene can be compared with that of the Tchaikovsky Competition in the world of classical music.
Upon his return to Moscow, Evgeny Pobozhiy, whose name approximately renders in English as [yevghE'nee pabOw'jee], gave this interview to Jazz.Ru Magazine's editor, Cyril Moshkow. On the day Evgeny turns 31—December 15, 2019—we publish the English version of the conversation, which is a close-to-literal, slightly edited translation from the Russian original, mainly at the expense of some set expressions and other features of spoken Russian which are unfamiliar to English-speaking audiences. Video version (see end of the article) is still in Russian only.
Evgeny, on behalf of our readers and the editorial staff of the Jazz.Ru magazine, as well as of the jazz audience of the Russian Federation and the entire Russian-speaking jazz community, we should begin the interview with congratulations on winning the most prestigious jazz competition in the world.
Readers are interested—let's start with readers' questions: what were the rules of that competition? What did you have to play, how was the material selected, what were the limitations and how was it all prepared?
First of all, thank you very much: I am really, sincerely very pleased with the support that I saw, heard, read on social networks, on the Internet; it was worth a great deal for me.
As for the contest… The initial selection of participants for the tour to the semifinals was based on demo records. One was required to record several tracks, according to certain requirements. These requirements were clearly spelled out. Say, the first number must be the blues, in which, in addition to improvisation on the guitar, it was required to comp with a wind instrument. The second number must be a jazz ballad, the first chorus of which should be performed solo. Then there was a Latin number, a number of choice, and an up-tempo swing number, a jazz standard.
So I recorded this demo, and sent it to the body that selected the applicants. They performed blindfold listening—blindfold in the sense that they were not taking into account the applicants' nationalities and other factors, but simply listened to the tracks. The commission selected 12 performers to participate in the semifinals.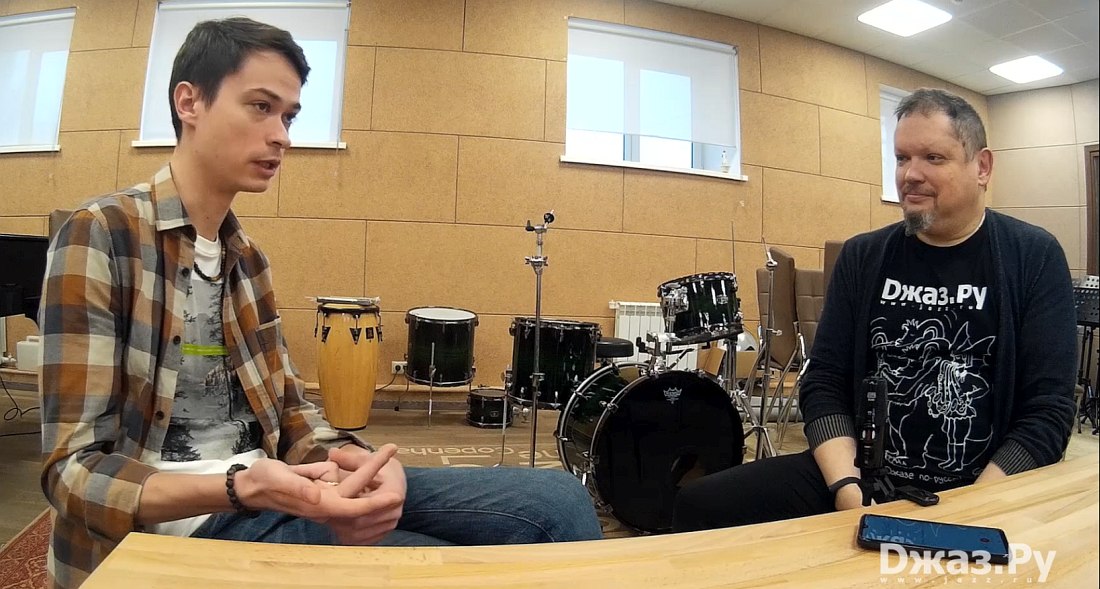 As for the requirements or regulations in the semifinals: the main one was not to go beyond 15 minutes. There was an explanation that, as a rule, this meant three compositions, but a participant could play two, one, four tunes… as long as it fitted the 15 minutes format. There was no list of standards or themes to choose from at all. But it was said that if, you wanted to play Thelonious Monk's music, then would you please pick from a certain list; but this [playing Monk] was optional. And that's it. The requirements ended there. You could play original music, you could play standards, or arrangements…—anything. Just keep the timing!
They asked also to keep in mind that each participant would only have thirty minutes for rehearsal. Accordingly, they also asked not to use music that was difficultly arranged and, so to speak, unnecessarily complicated for accompaniment—so that the performance would not suffer…
Complex unisons?..
Unisons, tutti… In general, they asked us that complexly arranged, elaborate, structured music was not to be played—precisely because it would be difficult for the house band to remember all this: too much information, and too little time allotted for rehearsals. Well, as for the finals—again, there were requirements: play whatever you want, but no more than 10 minutes. Two compositions, one of which must be played with saxophonist Bobby Watson. That is, the same rhythm section that was at the semi-finals (pianist Reggie Thomas, bassist Yasushi Nakamura, and drummer Carl Allen.—Ed.), plus Bobby on the alto saxophone in one song.
Do I understand correctly that all these are musicians were from Washington?
Yes.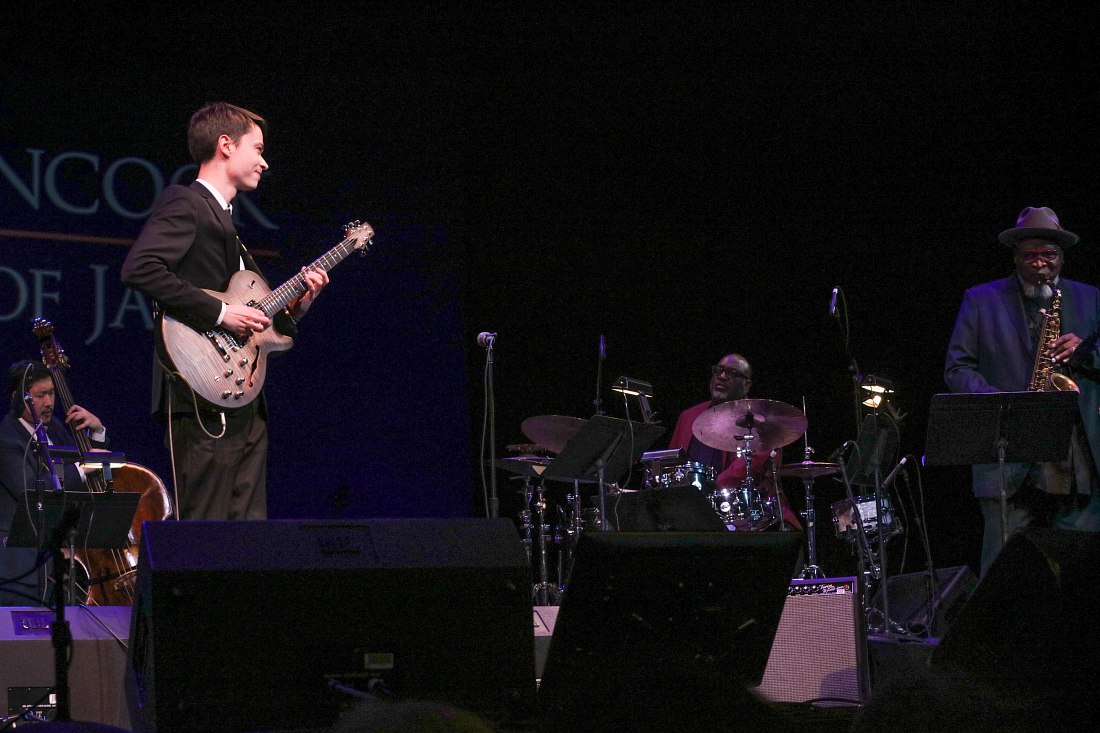 How went the rehearsal, how did they respond to your style?
Well, the rehearsal was, how to say that… mixed, because I brought music which was stylistically very diverse. I decided that one composition was to be mainstream jazz—it was "In Walked Bud", the famous standard by Thelonious Monk. For the second number, I decided on "500 Miles High" by Chick Corea: Latin rhythms, samba. Number three was "Actual Proof" by Herbie Hancock, the famous fusion tune; not so simple, it has its own difficulties in execution.
Well, in general, at the rehearsal we played "In Walked Bud" very well. "500 Miles High" was pretty good. But with «Actual Proof,» there were problems. The house band are very good, professional jazz musicians, but (grins) as for funky fusion music, as I understand it, this was not their thing, and a little difficult for them to play it.
But during the semifinals performance everything went quite well.
It was interesting to see the performers' faces on the video (Pobozhiy laughs): when everyone successfully hit a certain accent in "Actual Proof", they looked at each other and nodded…
(laughs) I was also happy when everyone hit those accents successfully!
VIDEO: Evgeny Pobozhiy semifinals performance, December 2, 2019
What was the atmosphere like among the competitors where people from so many countries participated?
A warm, purely friendly atmosphere; that is, no contention, no, you know, side glances… Everyone was really very friendly, treated each other nice, with mutual respect, with recognition of the musical achievements of each participant, I did not feel like I was in a competition! Rather, it was a demonstration of the performance level of really well-trained, very strong guitarists.
Have you heard any of these musicians before, or was this the first time?
Honestly, when they mailed me the list of contestants, I listened to all of them, watched their videos on YouTube. Before that, we were "friends" on Facebook with some participants, but somehow I never listened them play before I found myself on the same list of semi-finalists with them. When I found out who will play in the semifinals, of course, I listened to everyone: I was just curious how they sounded.
In hindsight, of course, many are now saying that everything was clear to them during the semifinals; that the level shown by the Russian participant, in general, significantly exceeded the level of other competitors. But it's clear that, in principle, no unprepared musicians could get into the semifinals of the former Thelonious Monk competition, which is now the Herbie Hancock Institute of Jazz Competition. Was it really so obvious to you? Did you listen to other musicians during the semifinals?
Well, yes, of course, I listened. And no, of course, nothing was obvious. That is, I can say that many in the semifinals audience who listened to my performance approached me after, thanked me for the performance, and said that they liked it very much and they wished me the best. But of course, I didn't feel that everything was 100 per cent clear, that I passed and that there could be no other way. No! For me personally, each of the 12 semifinalists was very interesting as a musician, as a guitarist.
These 12 musicians—that is, eleven plus you—do they represent the current, so to speak, forefront of the current generation of jazz guitarists?
Naturally. Of course!
So, this is the current state of the art of jazz guitar?
I think yes. If we take a cross-section of a generation, that is, up to 30 years.
All contestants were about the same age?
There were several younger guys—21 years old. But mostly 25, 27, up to 30.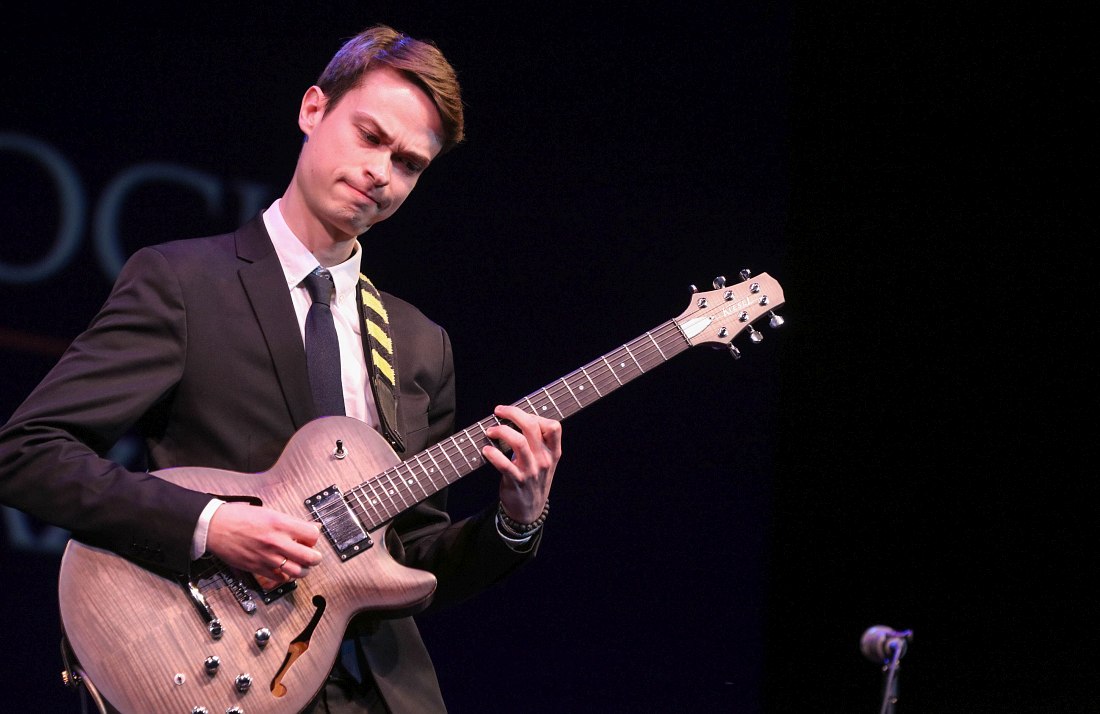 The competition focused on the guitar has not been held since 2005, which means there was a 14 years gap. Is there a feeling that something has changed on the guitar scene, compared to the previous contest?
I can judge the last competition only by video recordings. The first time I watched this video was maybe in 2007, as soon as the Internet became accessible [in my hometown]. I began to search for everything related to jazz, learned about the Thelonious Monk Institute, about the competition, and watched videos from previous competitions. But I can say that there already was a very, very high level. And the winner of the 2005 competition, Lage Lund, is a very interesting musician for me personally, and I check out all his new releases. It is hard to say; it seems to me that every year's competition is really documenting the highest level of the whole generation of performers on a particular instrument.
By the way, that is an interesting example, Lage Lund. He is from Norway, and at the same time he does not play what we are used to call "Norwegian jazz"…
Absolutely, this is just New York sound, exemplary straight-ahead jazz of today.
Have you ever met him?
No, I haven't.
It would be interesting to know how it happened, that a member of the most different regional jazz scene in the world so easily joined the New York scene…
I do not know his biography, but it is possible that he simply studied for some time in America, well, before participating in the competition.
I first heard about it from the producer of his first American record, the dear, late Gerry Teekens of Criss Cross Jazz label. And he spoke of Lage precisely as of an heir to the American tradition. Quoting Wynton Marsalis, is that really so that that there is no Russian jazz, or Norwegian jazz, or, say, Indian jazz; but there is American jazz, which is played in other countries. Or the picture is different?
A difficult question. And the fact that the discussion is still ongoing suggests that it is somehow completely impossible to give a definite, univocal answer to it. For me personally, yes, there really is American jazz, and Wynton Marsalis is a vivid example of the topmost level of that American jazz sound. And on the other hand, yes, there are many experiments as well—in combining, introducing elements of various cultures and styles into jazz, in this or that proportion. Somewhere, say, ethnic tradition prevails, somewhere it only adds a certain flavor. These are very diverse phenomena. This is how I personally feel about that.
So, no definite answer?
It's clear that American jazz really exists—what we call straight-ahead jazz, or mainstream in its modern form. But at the same time all around the world, in every country, there are experiments, based on jazz language and jazz tradition, or at least elements of the jazz tradition, aimed on creating some kind of new sound, combining it with elements of diverse national cultures.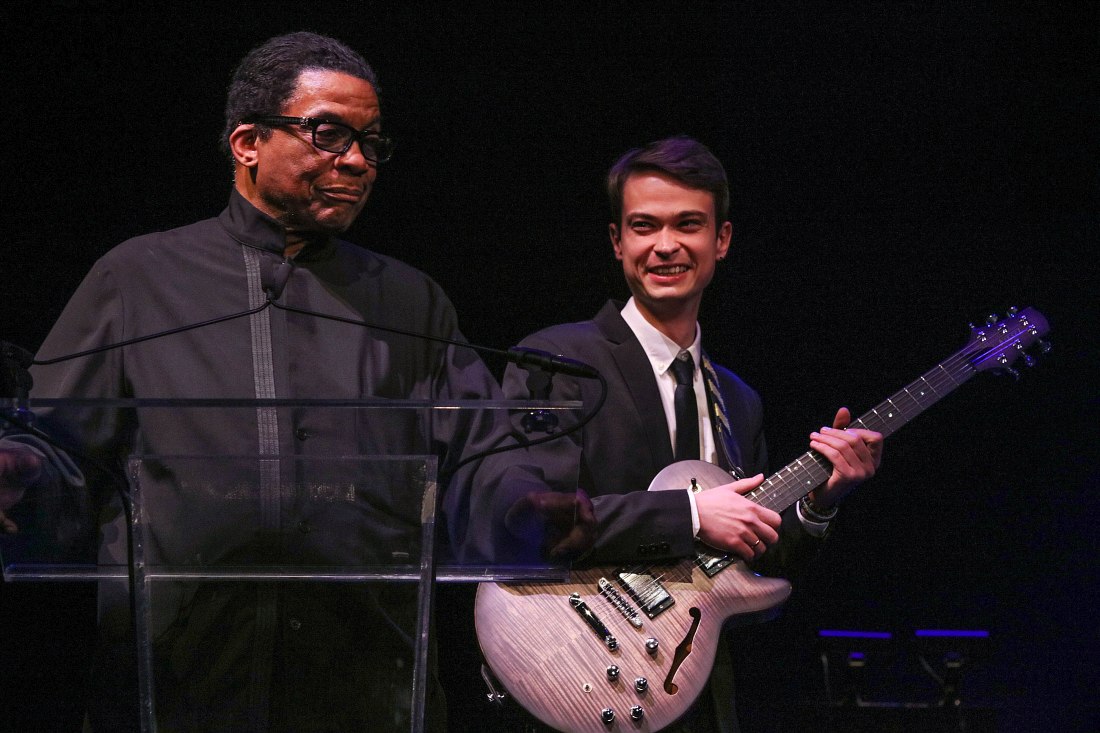 I've heard that the head of the Institute, Herbie Hancock, spoke to the finalists. Did you have any contact with him, was something interesting said?
He congratulated me on the victory, expressed his enthusiasm about my playing, and said that we can communicate more closely, more thoroughly later. That's all: we didn't have a long conversation, but he promised that it would definitely happen in the future.
I understand that you will soon return to the United States with the Igor Butman Quintet and Moscow Jazz Orchestra; actually, next month, in January 2020.
That is correct.
Any other specific plans? I've heard that with the first prize in the competition comes a certain scholarship… ($ 30,000.—Ed.) How do you plan to use it?
The scholarship can be used either for educational programs, or for projects related to promoting me as an artist: say, recording and releasing a disc. Or maybe, really some kind of educational program. I'm still thinking about how to use all this with the greatest benefit for myself. There are many options, I am considering them now.
There is also the contract with Concord Music Group in the winner's bag. My main priority is to prepare for the recording and release of the album, first of all to prepare music for this recording.
So you are planning to record some new music—not what you recorded recently in Moscow?
Watch Evgeny perform with his quintet recently at the Bluez Minuz Studios in a Moscow suburb: the music is his original, "Stranger Thoughts"
Perhaps I use something from what has already been recorded; but for the most part it will be new music. I would like to do that.
Where are you planning to record?
I would like to do it in the USA.
Do you have any preferences for the studio, or sound engineer?
I was fortunate enough to record at Avatar Studios in New York once. In addition, I recorded one of my compositions at the Bell Sound studio in Los Angeles. I can say that I was absolutely delighted by the quality of the studios, of work, of attitude—of everything!—in both places. I think that the choice will be from American studios of this class.
One of the Russian news agencies run a news article about you winning the competition with a headline stating that you are not planning to emigrate from Russia. Was this question really so important for them?
This wasn't even asked so directly, to be exact—there was, rather, a question whether it was possible to build a global jazz career without leaving Russia. To which I replied, "Yes, of course it is," and gave the example of Igor Butman as a living example. Nevertheless, it is very difficult for me now to answer this question! Because emigration as such—that is, moving there for permanent residence—means a lot of difficulties in everyday life. I have a family with two children, it's all not so simple. But in any case, I now have a great opportunity to start developing a career in America. One way or another, if you are a jazz musician and you have a successful career in America, then you are known all over the world. This is a fact, and hardly anyone will argue with this: if you are known in New York, then you are known everywhere.
Is it still necessary to move there for that?
It's not necessary to move, but it is necessary to visit often.
This is understandable, of course. So, are you planning that?
Well, of course, yes!
Keep us updated on your plans, we are very interested! And, of course, (laughing) we are now closely monitoring the career of the first Russian winner of the most prestigious jazz competition in the world. Good luck, and many thanks for the interview!
WATCH THE INTERVIEW IN RUSSIAN: